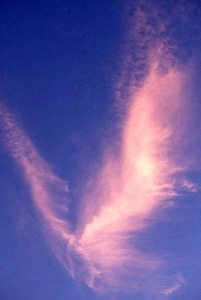 Zweverig en vaag
Als iemand een situatie als zweverig beoordeelt, vraag ik meestal wat dat voor hem of haar betekent. Ik wil graag weten op welk punt iets zweverig begint te worden.
De rode draad van de antwoorden bevindt zich ergens tussen hemel en aarde(n). Ergens tussen wetenschap en spiritualiteit. Iedereen blijkt zijn eigen zweefgrens te hebben.
Laatst las ik ergens dat iets als zweverig wordt ervaren als er geen kapstok is waar je de materie aan kunt ophangen. Met andere woorden, het betreffende onderwerp is nieuw, je hebt je er nog niet in verdiept en je kunt het (nog) niet plaatsen. De materie is nog niet geland, het zweeft dus nog.
Het kan ook zijn dat je gewoon niets met de betreffende materie hebt. Maar hoe weet je dat?
Hoe menselijk is het om onwetend te zijn. We zijn allemaal op een hoop terreinen onwetend. Waarmee we het onszelf echter lastig maken is om onwetendheid te veroordelen. We vinden bijvoorbeeld onszelf of iemand anders dan niet zo slim of we benoemen iets als zweverig of vaag als excuus om ons achter te verschuilen. Dan ligt het niet aan ons maar aan de materie.
Voor mij is iemand heel krachtig als hij zegt dat hij het niet weet. Hij laat daarmee zien dat het hem niet deert wat anderen van die onwetendheid vinden en hij doet geen onterechte aannames.
Vanuit onwetendheid kun je er voor kiezen om bewust te worden. En dat is denk ik één van de belangrijkste reden wat we hier komen doen; bewustwording.
Dus zodra ik iets als zweverig of vaag benoem, is dat voortaan een signaal voor mezelf dat er zich nieuwe materie aandient.
Kirsten Vonk – Vonk Maakt Vuur